The default of WordPress allows readers to connect with bloggers via Facebook, Website, or any social media platforms. Abusing it, spammers attacked many websites by using automated software to comment and put links to their pages. This is extremely dangerous for websites and bloggers.
You see your website is threatened by spam and malicious attacks. It can be a hindrance for bloggers, with a constant influx of unwanted comments, that causes frustration for users. Especially, spam comments make your website less professional and less trustworthy for visitors. Spambots not only consume your time and server resources, but they can also lead to inaccurate estimations of your WordPress traffic, email list size, and other performance metrics, even compromising the security and integrity of your website.
Being aware of this, you're just starting to search for the best WordPress plugin to secure the site. Don't worry! We are here to help you find the tool that effectively scans for spam and supports managing your site efficiently.
Consult with us and choose the most suitable plugin for your website!
Table of Contents
Cleantalk Best Quality WordPress Anti-Spam Plugins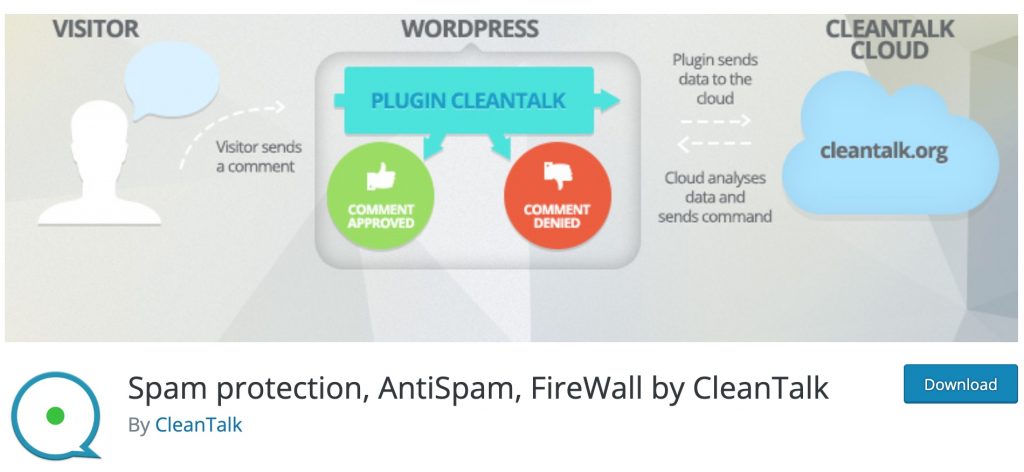 With over 2,000 five-star ratings, CleanTalk is the best-reviewed anti-spam plugin in the WordPress directory.
CleanTalk is an effective anti-spam plugin for WordPress that cleans both real-time spam and pre-existing content. It is also a premium cloud-based anti-spam plugin. Which is pretty cool, CleanTalk has an "invisible" spam filter, comments are uploaded to CleanTalk's cloud servers, where it undergoes multiple validation checks and it can get rid of spam without the user having to do anything else.
Besides, this plugin works not only for comments but also for member registration, contact forms, orders, bookings, and subscriptions. This helps you ensure your site is completely clean and free from spam.
In addition, this plugin has solid performance, provides detailed statistics, and is affordable – all making it a comprehensive and effective solution to protect your WordPress website against spam.
The best part of CleanTalk is that it doesn't use CAPTCHAs, so there are no verification questions, quizzes, or math to ask your visitors to solve. Which doesn't create a frustrating user experience and also doesn't lose the engagement of users to the website.
With anti-spam Firewall features, its protection makes sure that annoying spam bots don't get anywhere near your website before they can even generate spam. CleanTalk offered several filters for Spam bots: WordPress registration forms, BuddyPress, bbPress, S2Member, WooCommerce, and any other registration plugins.
Other features of CleanTalk WordPress plugin:
Compatible with WordPress cache plugin.
Check existing comments/users for spam. Bulk comments/user removal.
Spam FireWall DDoS Protection.
Easy to install and use.
CleanTalk doesn't have a free version. The paid version starts at $12/year/website.
For more info, you can check out Spam Protection, AntiSpam, FireWall by CleanTalk.
Best Alternatives of CleanTalk
As we have already discussed, CleanTalk is the best anti-spam plugin in WordPress. But it also has a big problem to reach all website owners and help them glide through a tough time to deal with spam, especially small websites. Simply because it's not free, and users have to pay some money to experience this plugin.
Fortunately, the CleanTalk WordPress plugin is not the only option to protect your site from spam. There are a ton of WordPress anti-spam plugins that offer superior features for your site.
Here we go, let's explore other plugins for the security of your site!
Cloudflare Turnstile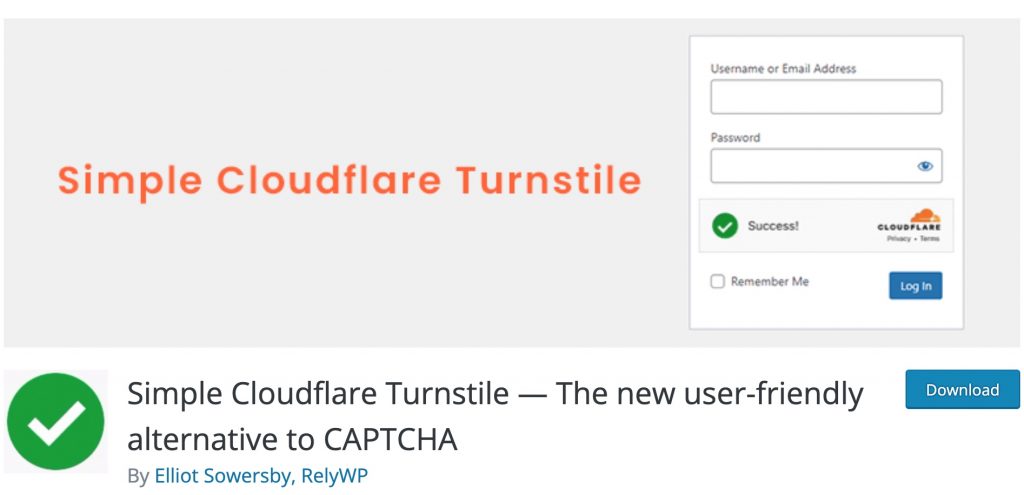 Our first pick in this list is Turnstile by Cloudflare. Turnstile is being deemed as "a user-friendly, privacy-preserving alternative" to CAPTCHA. It is developed with spam protection by setting reCAPTCHA and honeypot. It leverages a non-interactive JavaScript system to protect websites against malicious behavior.
Mainly, Turnstile employs JavaScript-based challenges that cycle through tests like proof of work, proof of space, and probing for web APIs while reading the web browser environment for signals that suggest a person is entering the site.
Everything is automatically implemented and seamlessly integrated into the website, making Turnstile not only a 'wall' protecting the form, comments, and login system of a WordPress website, but also improving the quality of the WordPress website, SEO ranking, ensuring a safer and more efficient online experience.
More critically, Turnstile is free for users.
Key Features:
Easy to install and use.
Offers mobile-friendly anti-spam features.
Real-time monitoring.
Built-in DDoS protection capabilities.
Bot management.
Protect your website by leveraging the function of Cloudflare Turnstile.
WP Armour (formerly HoneyPot)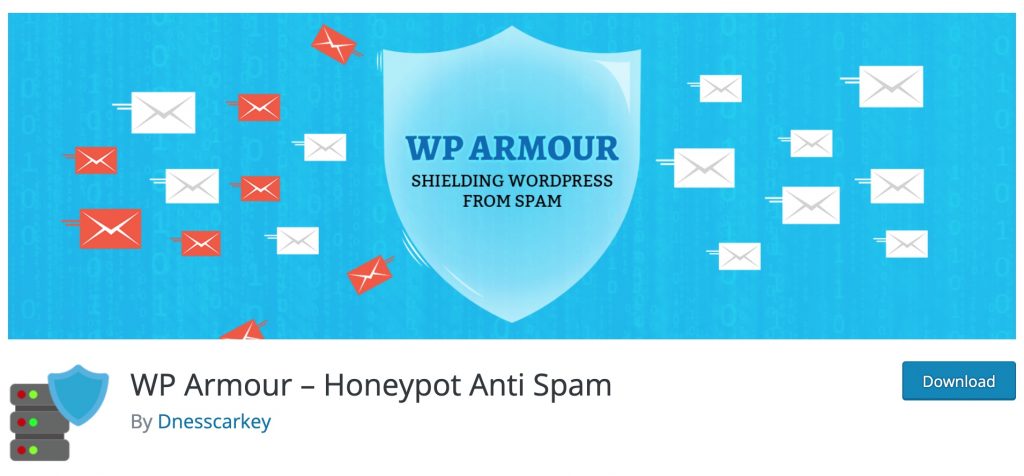 The next plugin in this list is WP Armour Honeypot Anti Spam. This plugin was created specifically to protect your website from spam registrations and comments, and it excels at doing so.
With WP Armour, no additional verification fields or Captcha for the users. WP Armour uses the honeypot anti-spam technique to prevent the automated bot from filling out the forms on your WordPress website.
WP Armour has two versions, free and paid. The free version complies with GDPR and doesn't store any cookies or make any calls to outside servers. Additionally, it employs the Honeypot anti-spam method, which is effective and dependable for detecting spam emails and comments, WordPress user registration, WordPress comments, and a large variety of plugins.
WP Armour Extended is the premium version of this plugin. Along with two levels of spam checking, this version supports extra plugins like WooCommerce Checkout & Registration, Ninja Forms, MailChimp, and more. To be frank, we don't think you'll need the premium plugin at all. Instead, if you're prepared to invest some money, choose another premium anti-spam plugin from the list.
Key Features:
Quick and easy setup.
Seamless integrations with WordPress form plugins: BBPress Forum, Contact Form 7, Ninja Forms, Gravity Forms, WPForms, Formidable Forms, Caldera Forms, Toolset Forms, etc
Record and Block the Spammer's IP.
Record Spam Submission.
More info about WP Armour for you to consult.
Human Presence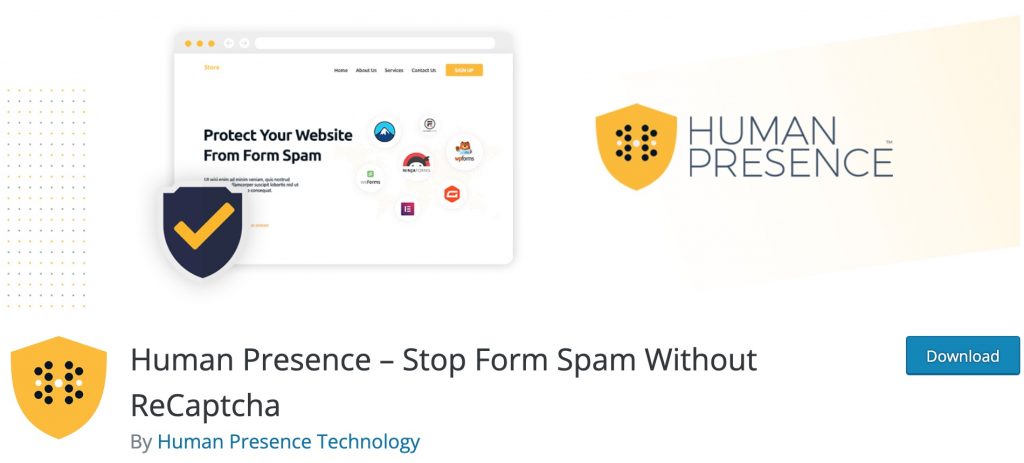 Human Presence was developed by Ellipsis Technologies company. This plugin is incredibly easy to use, doesn't require any coding, and is compatible with WordPress websites.
This plugin is a solution to block bots and spammers using proprietary behavior analysis to invisibly detect & record individual session behaviors.
Because it is recognized that spammers have found holes around the system of other plugins to continue their attacks, Human Presence utilizes anonymized behavior analysis and proprietary algorithms to measure the smallest inactive movements to detect robot spammers with 99% reliability.
The most popular WordPress plugins, themes, and applications are all compatible with Human Presence. Additionally, it is tightly integrated with some of the most cutting-edge managed WordPress hosting companies.
With Human Presence, Recaptcha and those bothersome boxes are gone. Human Presence has been developed to help website owners protect their sites with an invisible solution that works in the background. This plugin allows your website visitors to offer them a frictionless user experience.
The plugin is easy to install and you can try it for free on 1 form of your website.
Key Features:
Easy to protect your forms with just a few clicks.
Compatible with: Gravity Forms, Ninja Forms, WP Forms, Formidable Forms, Elementor, Contact Form 7, etc.
Uses Machine Learning algorithms to measure human interactions in real-time.
Eliminates annoying spam submissions, comments, and reviews.
Let's remove spam from your website by accessing Human Presence.
OOPSpam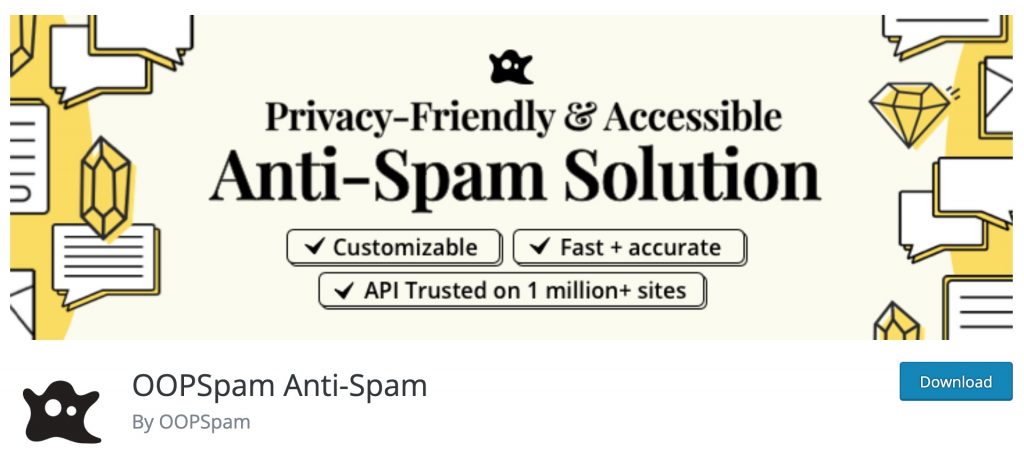 Another plugin in this list will be OOPSpam. This plugin is a new-generation spam filter that uses modern approaches for WordPress websites, a powerful anti-spam filter for contact forms, comment systems, live chat, and email marketing.
Advanced algorithms of OOPSpam including machine learning models are used to assess and cross-reference every comment and contact form submission with our database.
This plugin enables you to scan your content using a variety of effective text analyzers powered by machine learning. OOPSpam supports 3 spam filters, including Apache SpamAssassin.
With powerful features, OOPSpam makes it easier for you to completely prevent and remove spam from your website. It's fast, and lightweight, with no cookies, no challenges, no Javascript, no tracking, and it has 99% accuracy.
Key Features:
Report spam score.
Automatically checks against multiple blacklisted IP & Email lists.
Offer language/country restrictions.
Utilizing advanced machine learning models.
Click download OOPSpam to research and receive an amazing result for your website.
Antispam Bee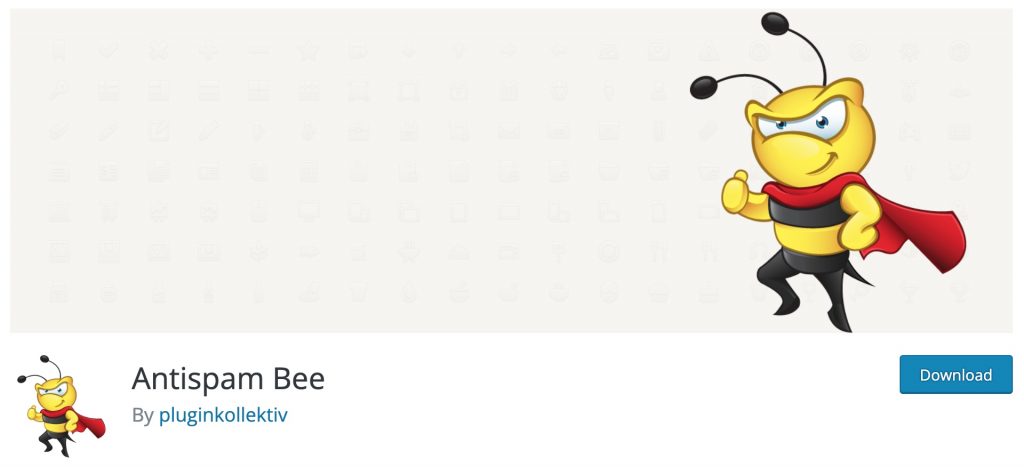 The last in this list, but equally special is Antispam Bee. Antispam Bee is a tool to protect the comments section from spam on your WordPress blog or website. This free plugin is full of amazing features.
It analyzes language patterns, surveys IP addresses, and searches specialized local databases designed to identify and prevent spammers.
Antispam Bee efficiently filters out spam comments and trackbacks without using captchas or transmitting personal data to outside servers. It is completely GDPR-compliant, cost-free, and ad-free.
In addition, Antispam Bee is very easy to set up. There is no registration required; it works out of the box. And it is completely free for both personal and commercial usage. Therefore, no matter how many websites you have, Antispam Bee can be a great solution to protect your websites from spam.
Moreover, Antispam Bee achieved over a million installs and was recommended by WordPress co-founder Matt Mullenweg. Antispam Bee will be a good choice for your WordPress website.
Key Features:
Limit approval to comments/pings.
Notify admins by e-mail about incoming spam.
No requiring Captchas and no sending personal data to third-party.
Logging spammers using Fail2Ban.
Make your comments section cleaned by using Antispam Bee
Wrap Up
CleanTalk WordPress plugin is always a fantastic choice for those seeking a dependable anti-spam plugin. It effectively blocks spam comments and registrations without causing any performance difficulties.
Besides, if you don't want to pay for this plugin, you want to use free or simply seek other power plugins to compare with CleanTalk. We are here for you, all plugins that we recommend above are the best alternative, and also the worthy opponent of CleanTalk.
Hope it's useful for your demand!