Looking to add some amazing video galleries to your WordPress website? Great idea! But with so many WordPress video gallery plugins, it can take time to decide which one to pick.
Don't worry, we've got you covered! We've researched and tested a bunch of different WordPress video plugins and narrowed them down to our top 5 picks for 2023.
Take a look at each one and compare their features to find the perfect fit for your needs. And once you've made your choice, we'll even give you a step-by-step guide on how to set it up. So let's get started and add some stunning video galleries to your website!
Table of Contents
Why Should Create a WordPress Video Gallery?
There are so many reasons why you might want to apply video galleries on your WordPress website.
Firstly, it enhances user engagement and offers an interactive way of showcasing products and services. Videos have a higher engagement rate compared to textual content, which makes them an excellent marketing tool.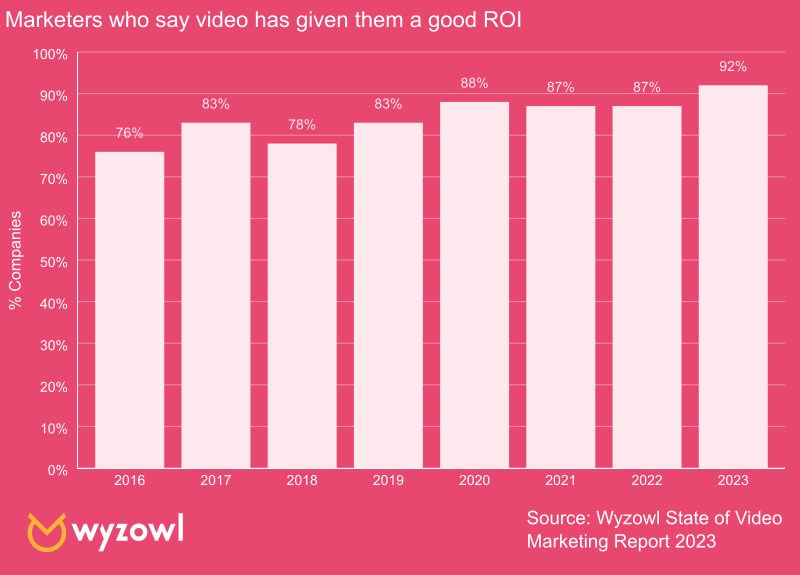 Secondly, video galleries increase visitors' time on a website, reducing the bounce rate and improving SEO. According
Thirdly, it helps boost sales in most cases. According to Hubspot, 88% of marketers claim that video has produced a good ROI
Let's say you've made some awesome videos on YouTube and you want to share them on your website. Or maybe you're a videographer and want to showcase your different types of work, like music videos, short films, corporate projects, and ads.
And if you own a business, videos are a fantastic way to show off your products and services. Product demos in virtual reality or video format are especially effective for marketing!
If you're offering online lessons or tutorials. Research has shown that video content is a great way to engage learners and supplement educational material.
Creating a WordPress video gallery is easy, and there are numerous plugins available to customize the gallery's appearance and functionality.
We've outlined all the great things about each of the 5 WordPress video plugins – and even mentioned the few drawbacks we noticed. So let's jump right in and check them out!
1. Easy Video Player
If you're looking for a video player that's easy to use, Easy Video Player is perfect for you! It's designed specifically for WordPress and it's super user-friendly.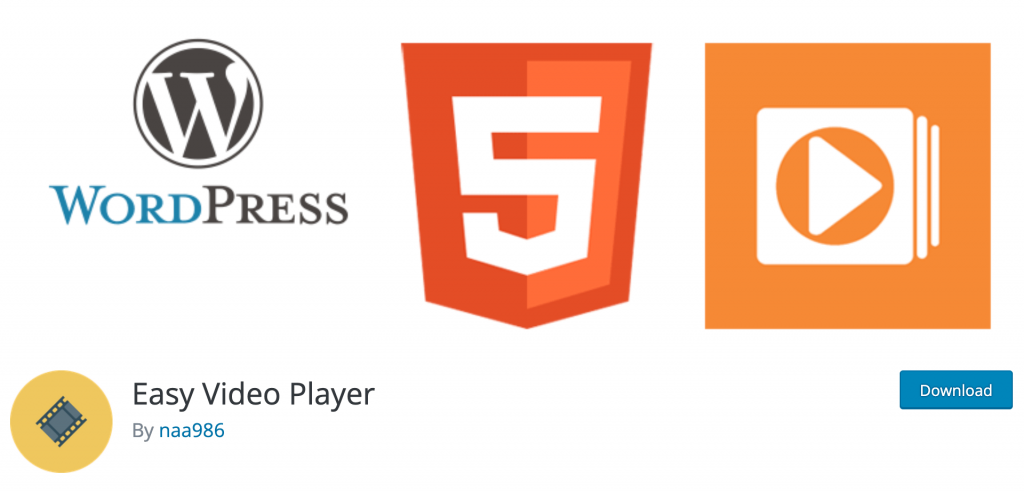 All you have to do is customize the video shortcode by adding your video or file URL and you're good to go! You can even customize things like autoplay, module size, and video looping from the shortcode.
If you're not familiar with shortcodes, don't worry! Easy Video Player has support documentation that can guide you through the whole process. It's really easy to set up and customize to your preferences.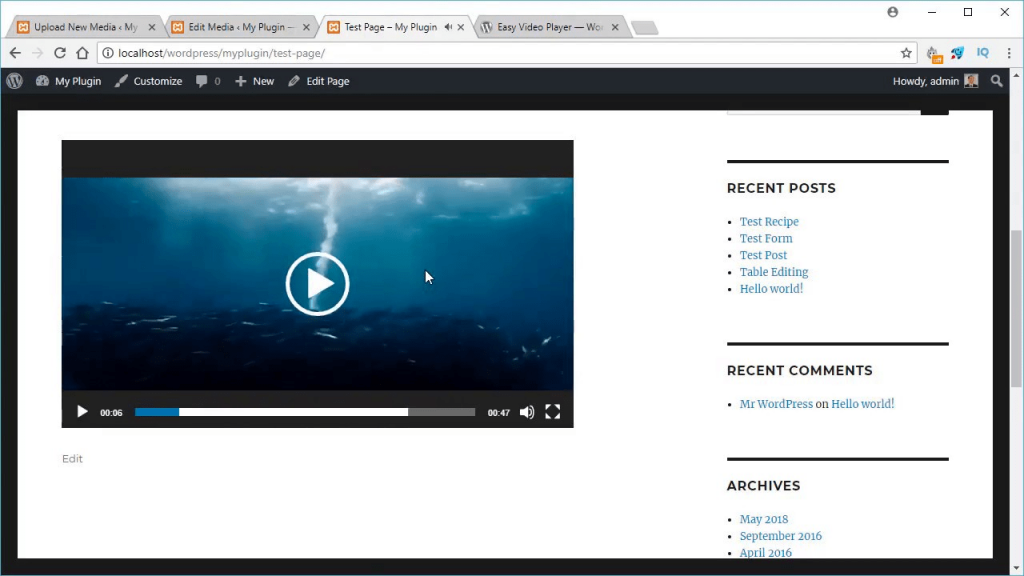 Key Features:
Embed shortcodes for videos
Enable video autoplay
Control video size and player ratio
Set video loop
Choose from various video player templates.
Pros:
Free installation and usage
Shortcodes are highly adaptable and offer a range of customization options
Supports personal file uploads as well as third-party video hosting sites
Cons:
Requires a thorough comprehension of shortcodes to operate
Limited features and functionality
Less responsive compared to other plugins
Pricing:
Free
2. Video Gallery WordPress Plugin By ZoomIt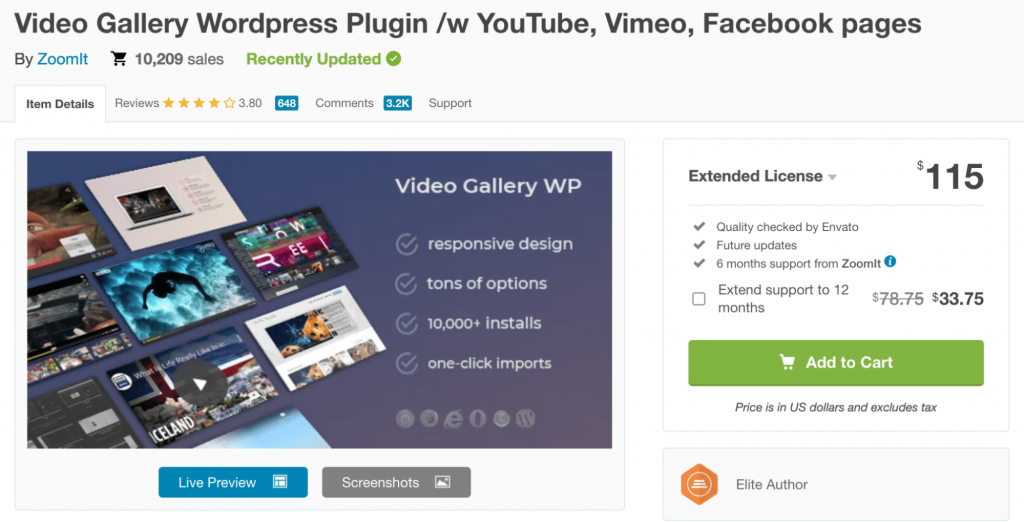 If you're looking for a WordPress video gallery plugin that helps you add ads to your videos, we've got you covered. This awesome plugin lets you place ads at the beginning, middle, or end of your video content. This way, you can make sure your audience sees a relevant ad that matches the content they're watching.
You can choose from different ad formats like images, videos, or iframes. Plus, the best part is that Video Gallery WordPress Plugin's ads are not detectable by ad-blockers, so your viewers will always see your ads.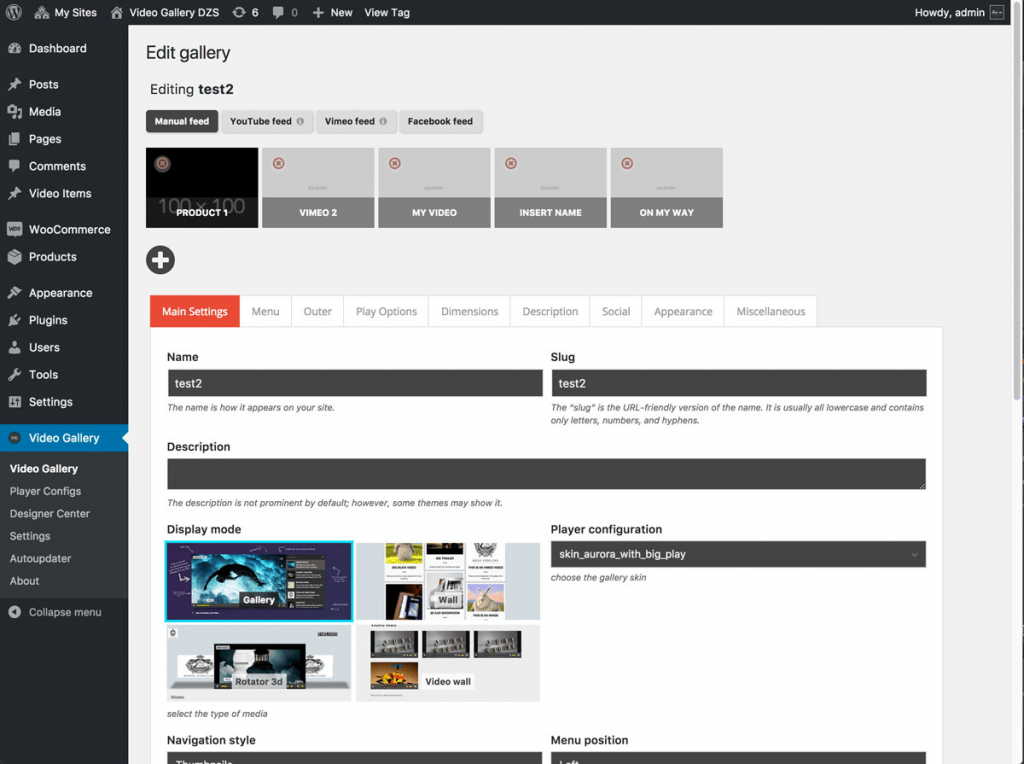 Key Features:
create multiple galleries within a single plugin
auxiliary shortcodes to customize your galleries
social media share thumbnails on deep linking
Meta support – attributes are automatically added to the videos
Linking for Gallery Videos
connected with YouTube, Vimeo API
Pros:
The design is responsive and will display correctly on a variety of devices and browsers
Offer multiple feeds to create video playlists
Allow for customization of the start point of a video
Come with six months of customer support
Cons:
This product is geared toward more advanced WordPress users
Some users have reported issues with DZS video galleries
Autoplay is muted by default on mobile browsers.
Pricing:
For just $25, you can use our plugin for one client, in a single end product that you won't charge your end users for. If you want to charge your end users, its Extended License is $115. You'll get quality assurance from Envato, future updates, and 6 months of support from ZoomIt.
3. Envira Gallery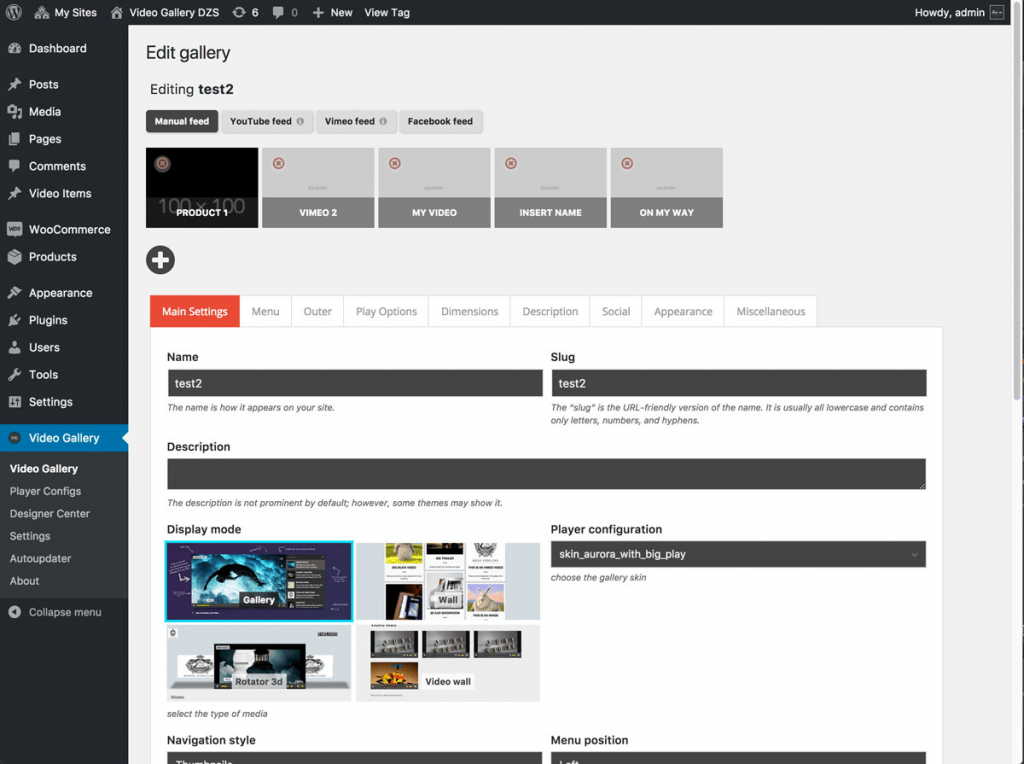 If you're looking for a plugin that offers the advanced function of managing your WordPress video gallery, look no further than the Video Gallery by OriginCode.
Envira is a user-friendly and efficient WordPress photo and video gallery plugin that eliminates the need for hiring a developer to create a WordPress gallery. With its drag-and-drop interface, users can easily and quickly set up a WordPress media gallery that is both functional and powerful.
Envira's developers have prioritized web and server performance, ensuring that the plugin operates smoothly and quickly, which is essential for improving SEO and conversion rates.
Key Features:
Drag-and-drop video gallery builder
100% responsiveness to ensure mobile-friendliness
Beautiful layouts and templates for customization
Organize your video galleries with albums, choose cover videos, and more
Easily share videos on social media
Allow for the addition of YouTube, Vimeo, Wistia, etc.
Slideshow feature with autoplay, manual controls, and more
Deep linking to make galleries and videos SEO-friendly
EXIF Meta Data
CSS Styles
Zip Importer
Pros:
Cons:
The free version has limited features and functionality, requiring a Pro Plan for full access to all add-ons
Advanced WordPress users may find the platform limiting in terms of customization and features.
Pricing:
Envira Gallery can be used for free or upgrade to a Pro version. The Pro version has a range of plans to choose from, starting at $26 per year for the Basic plan and going up to $89 per year for the Pro plan. Additionally, there are options for one-time payment available.

4. Video Gallery – Vimeo and YouTube Gallery by OriginCode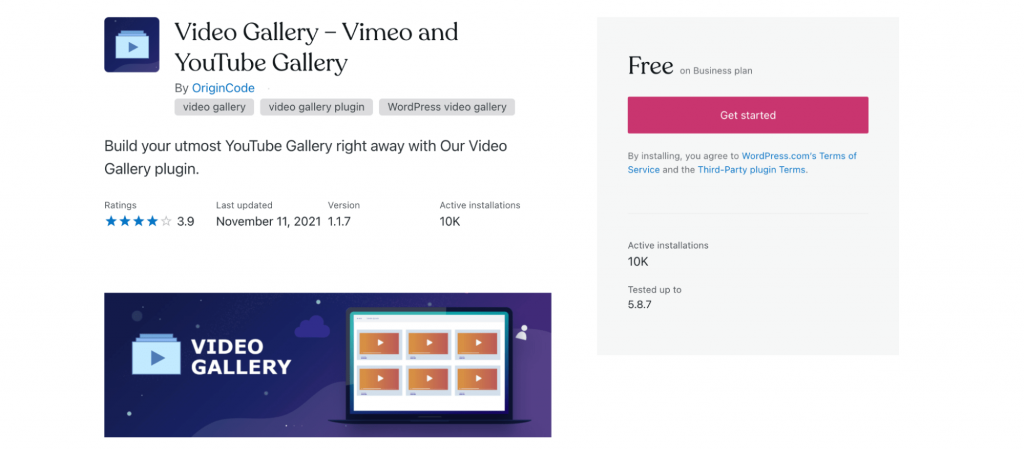 If you're looking for a WordPress video plugin that supports both Vimeo and YouTube, look no further than the Video Gallery by OriginCode.
While YouTube is a popular platform for video hosting, Vimeo is also a great channel to promote your content. Unfortunately, many WordPress video plugins only support YouTube videos. However, with this plugin, you can easily create galleries that include videos from both platforms.
The plugin offers a variety of design options to ensure that your gallery matches the appearance of your website. Whether you want a YouTube gallery, a Vimeo gallery, or a mix of both, the Video Gallery plugin has got you covered.
Key Features:
7 nicely designed views
Hundreds of design options
Create a mix of YouTube gallery and Vimeo Gallery
Shortcode options
Able to view counter
Enable video gallery popup
Lightbox video gallery
Justified view
Load more and pagination
Pros:
Includes a content and video slider feature
Offers a lightbox-video gallery option
Provides a view counter for each video
Cons:
Unable to change the sort field or order of videos
Some compatibility issues have been reported with specific WordPress themes
Limited support documentation
Pricing:
Free, with paid plans available
5. All-in-One Video Gallery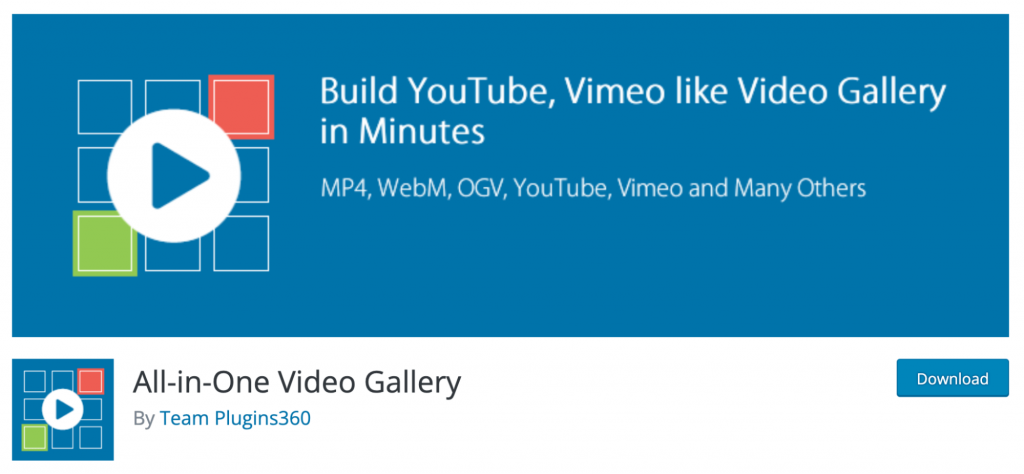 All-in-One Video Gallery – a versatile WordPress video gallery plugin that enables you to showcase a variety of video formats and hosting services. With this plugin, you can easily upload your own videos or integrate those from popular sites like YouTube, Vimeo, Dailymotion, or Facebook.
You can even embed an iframe from a third-party service if you're using a different hosting platform. All-in-One Video Gallery provides a one-stop solution to manage all your video content on your WordPress website.
Key Features:
Multiple playback options
Custom HTML5 Video Player supports MP4, WebM, OGV, HLS, MPEG-DASH
100+ customization settings
Filter and sort videos easily
Gutenberg Blocks to build the gallery
Offer comments system.
Dedicated search form & layout
Pros:
Automatically optimizes videos for search engines
Compatible with Google Ad Manager and Google Adsense
Provides GDPR consent options
The premium version supports live videos
Cons:
The free version has limited features and functionality
The support team does not actively monitor WordPress support threads.
Pricing:
Free, with paid plans available
In Summary: Which is the Best WordPress Video Gallery Plugin?
Choosing the right WordPress plugin for your video gallery can enhance the presentation of your videos in an appealing way.
With various options available, these plugins allow you to embed videos from multiple third-party hosting websites and provide visitors with diverse playback options.
Additionally, you can choose from a wide range of WordPress video gallery styles to match the design of your website.
For a simple and user-friendly WordPress video plugin, consider Easy Video Player. If you want to incorporate advertising videos, the Video Gallery WordPress Plugin By ZoomIt may be the right choice for you.
For a more sophisticated WordPress video gallery, Envira Gallery is a good option. If you want to showcase Vimeo and YouTube videos on your site, Video Gallery – Video and YouTube Gallery by OriginCode is a suitable choice. Finally, if you're looking for an all-in-one video gallery plugin, All-in-One Video Gallery has got you covered.