Online donations have become a powerful tool for organizations and individuals alike to make a positive impact in the world. There are numerous charitable organizations and NGOs that rely on online donations to continue their vital work, whether it's aiding disaster relief efforts or making a difference in their community.
In the WordPress community, many bloggers and developers also use online donations to fund their projects and achieve their dreams. Luckily, collecting donations on your WordPress or WooCommerce site is easier than you might think.
Check out this list of some of the best WooCommerce donation plugins available, both free and paid.
Table of Contents
1. GiveWP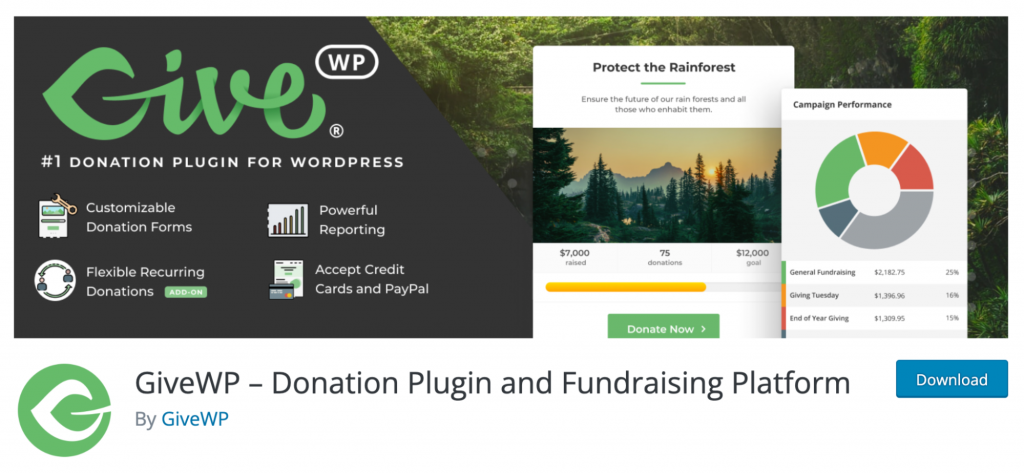 The GiveWP plugin is highly popular among WordPress users, with more than 100,000 active users currently using it. Its popularity is justified by its many features that allow you to accept one-time and recurring donations through various payment methods such as PayPal and Stripe.
You can also access valuable insights and track analytics from the donor database, providing you with information about your top donors and how much you're earning.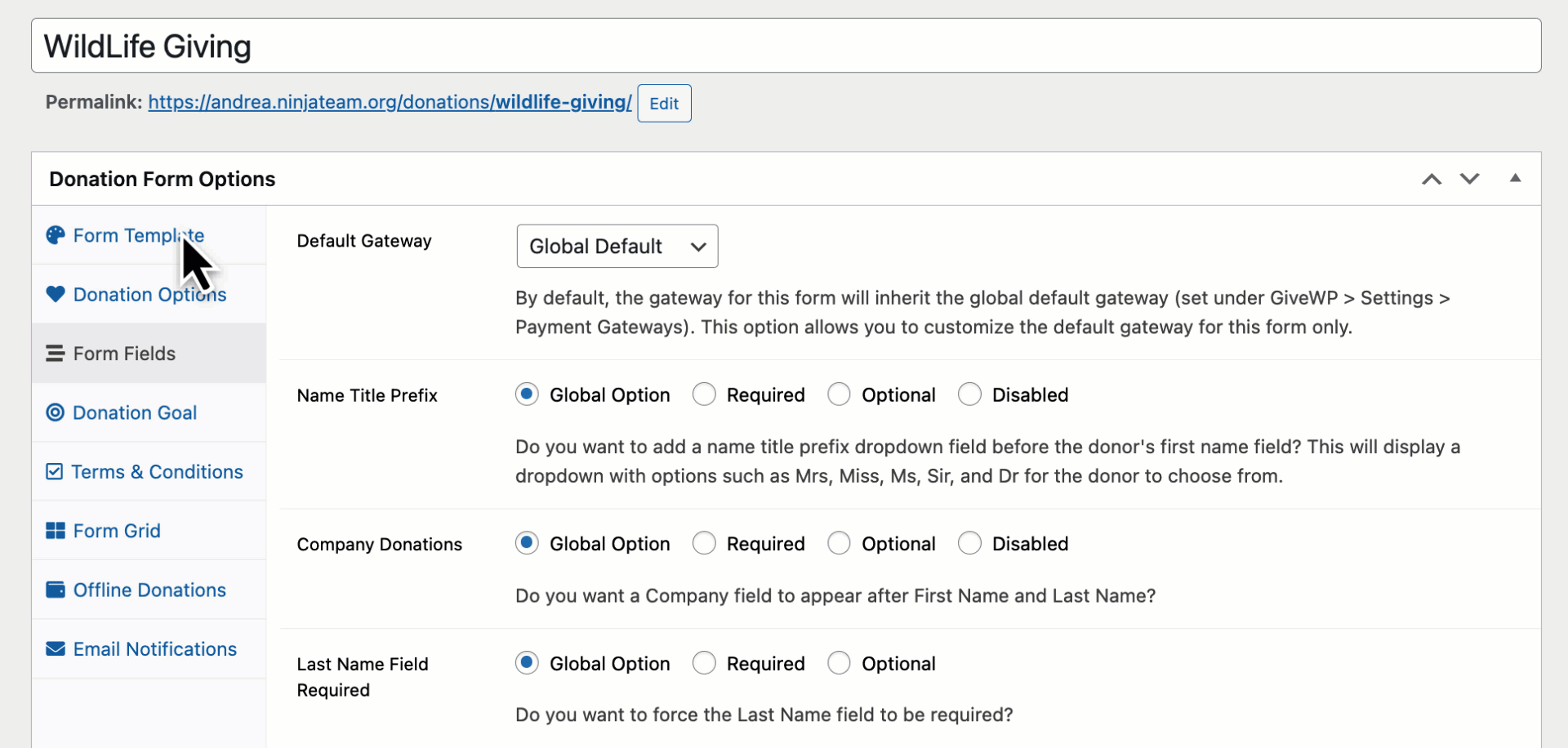 This WooCommerce donation plugin includes donor management and payment history tools, customizable templates, and Mailchimp and other email marketing tool integration. With GiveWP, donors find it easier to register and keep track of their contributions.
Key Features:
Customizable Donation Forms
Flexible Recurring Donations
Peer-to-Peer Fundraising
Insightful Fundraising Reporting
Configurable Fundraising Goals
Custom Form Fields
Credit Card Fee Recovery
Currency Switching for Donors
Text-to-Give
Tribute Giving or Giving in Honor of
Pricing:
It provides both Free and Paid plan.
The GiveWP Free plan provides a range of helpful features, including PayPal and Stripe integration, a donor database, access to reports, form grids, and more.
However, if you require additional features such as recurring donations and PDF receipts, you will need to purchase the premium plan. The Basic Package starts at $149 per year.
GiveWP is the perfect solution for you if
you need a complete donation package involving email marketing and multi-level donation campaigns, etc.
you want to seamlessly integrate it with both Stripe and PayPal,
you're a fan of Divi.
2. Donation for WooCommerce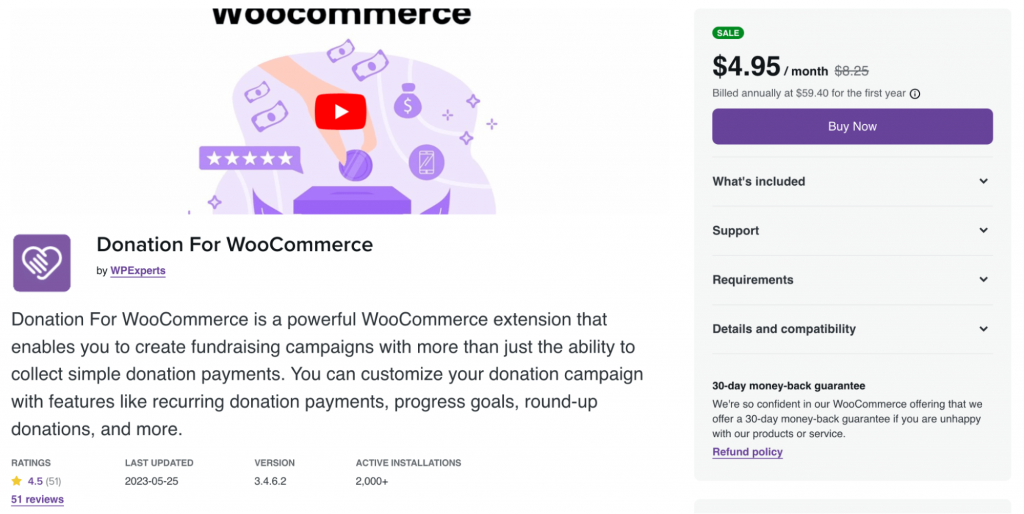 Donation for WooCommerce is an exceptional donation solution that is designed to cater to recurring donations comprehensively. This powerful WooCommerce extension offers you the ability to create fundraising campaigns that go beyond simple payment collections.
You can personalize your fundraising campaign with a range of features including round-up donations, progress goals, and recurring donation payments.
One of the most remarkable features of Donation for WooCommerce is the ability to customize your donation campaigns with options such as donation amount types, limits, and levels.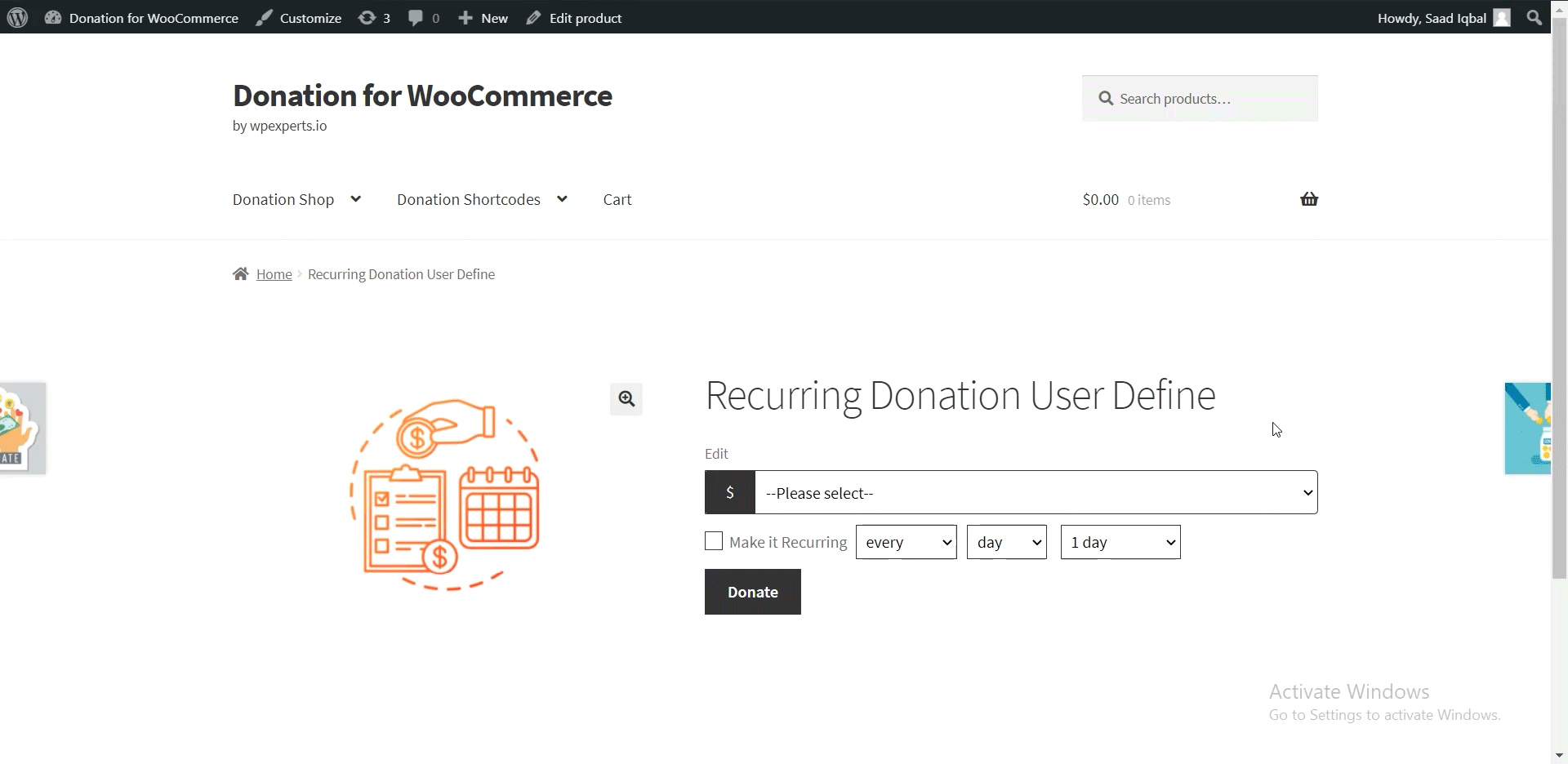 With the option to display your donation campaign's goal, you create a sense of urgency that motivates early donors to reach out to more people, making it easy for the entire community to achieve the donation goal together.
Key Features:
Set Min & Max Amount Limits
Add multiple donation amount options
Round up the final amount
Goal progress bar's value in percentage
Add decimal donation value
Pricing:
Donation for WooCommerce is the perfect solution for you if…
you are using WooCommerce
you want to integrate donations with your WooCommerce store
you want to take advantage of a round-up method in collecting donations
you desire to set donation goals and format the way it displays on your website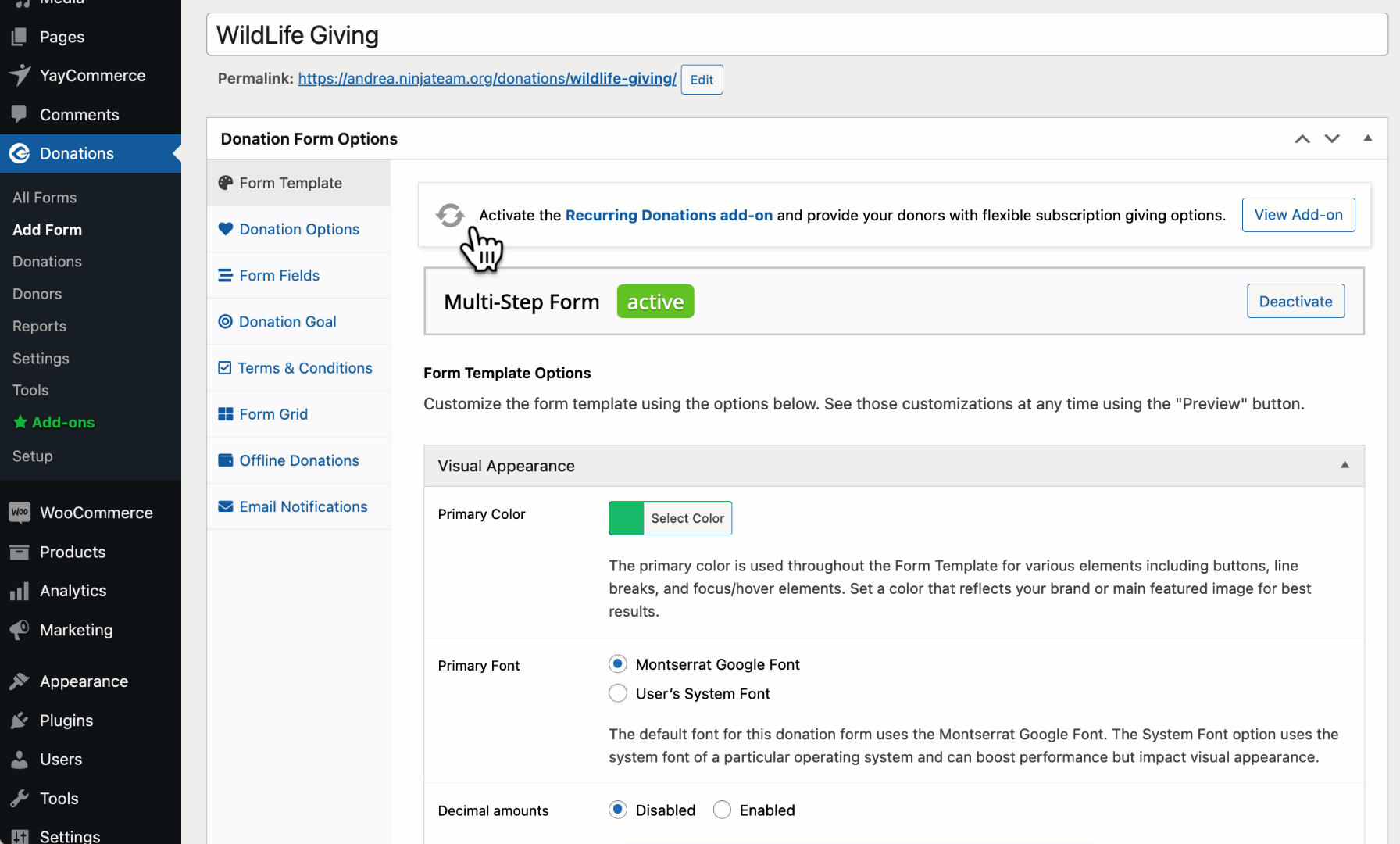 3. YITH Donations for WooCommerce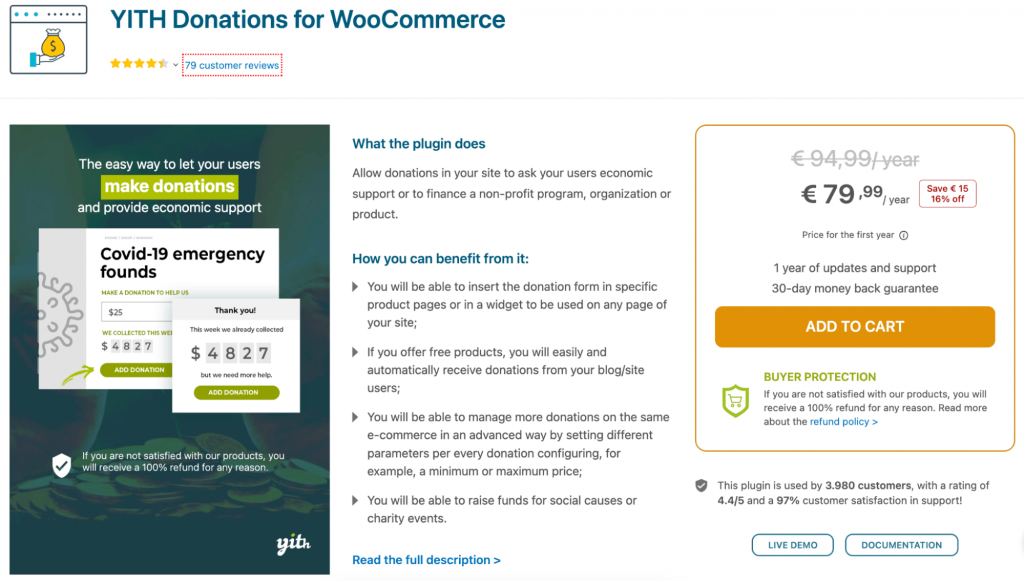 YITH Donations for WooCommerce is a WooCommerce donation plugin that simplifies the process of adding donation options to your website. With just a few clicks, you can associate a donation with a product or allow users to make donations directly to your site.
This plugin is built on the reliable and feature-rich WooCommerce platform, making it an ideal solution for both beginners and experienced digital marketers.
With YITH Donations for WooCommerce, you can easily add donation forms to multiple products and make the donation process optional or secondary.
Additionally, the plugin offers a shortcode that allows you to display it anywhere on your website. Setting up your donation system is simple and requires no technical assistance.
Key Features:
Filtered list of all donation orders of the shop
Minimum and maximum amount for each donation
Put forms on any post, product, or cart page.
Customizable textual labels
Edit the contents of the email for donors
Donation form shortcodes
Pre-set donation amount
Pricing:
YITH Donations for WooCommerce is the perfect solution for you if…
you want to design your own form fields.
you need to place forms in many ways and many positions
you are using other YITH plugins installed on your website
4. Donation Forms by Charitable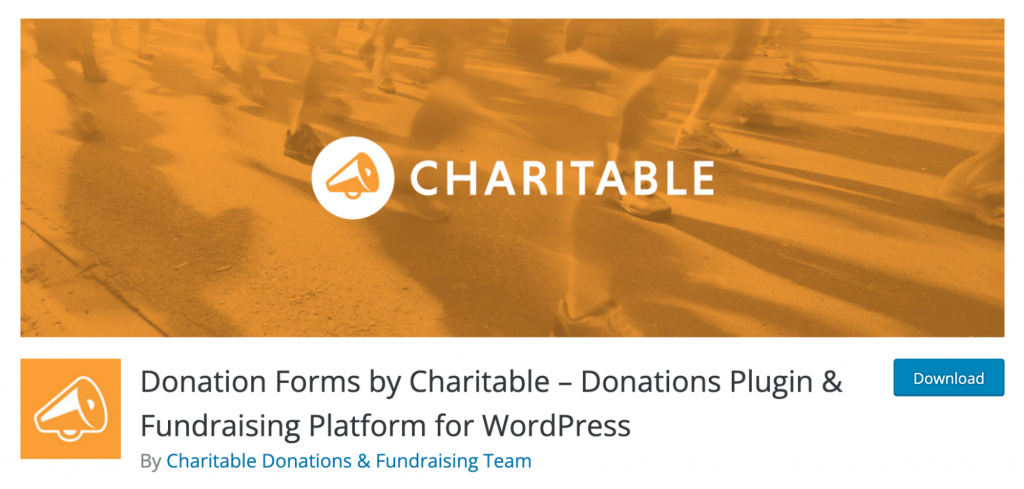 Donation Forms by Charitable is a user-friendly tool that enables you to effortlessly generate and share high-performing donation forms and fundraising campaigns on your website.
With Charitable, you can conveniently create and launch fundraising campaigns in a matter of minutes. Whether you require a donation form for your regular ongoing donations, fundraising for a time-sensitive need, or soliciting donations for a specific fundraising goal, Charitable has got you covered.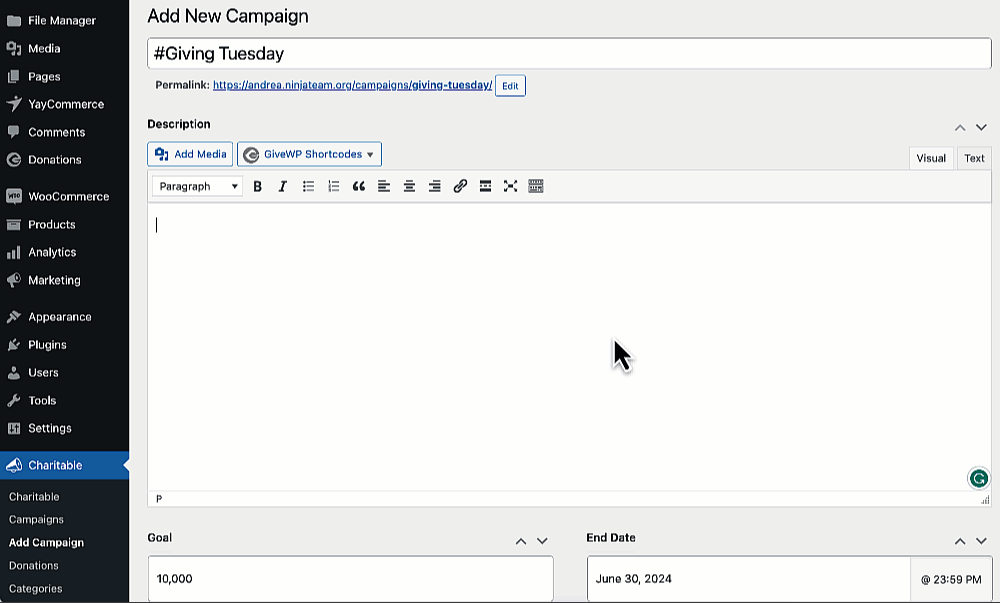 Donation Forms by Charitable is among the highest-rated WooCommerce donation plugin on the market, with over 100 satisfied users giving it a 5-star rating.
Key Features:
Set fundraising and donation goals
Provide suggested donation amounts
Donation forms shorten
One-click Connect with Stripe, PayPal
Offline donation receipt
Privacy Notice and Terms & Conditions
Pricing:
The base plugin is available for free, but additional features can be accessed by upgrading to the Essentials plan.
Essentials plan, which costs $119 per year, allows users to unlock payment gateways such as Stripe, Authorize.net, Braintree, and others, as well as newsletter sign-up forms.
YITH Donations for WooCommerce is the perfect solution for you if…
you want to customize and send emails, receipt easily to donors
you more focus on the privacy and legality of the donations
5. WPForms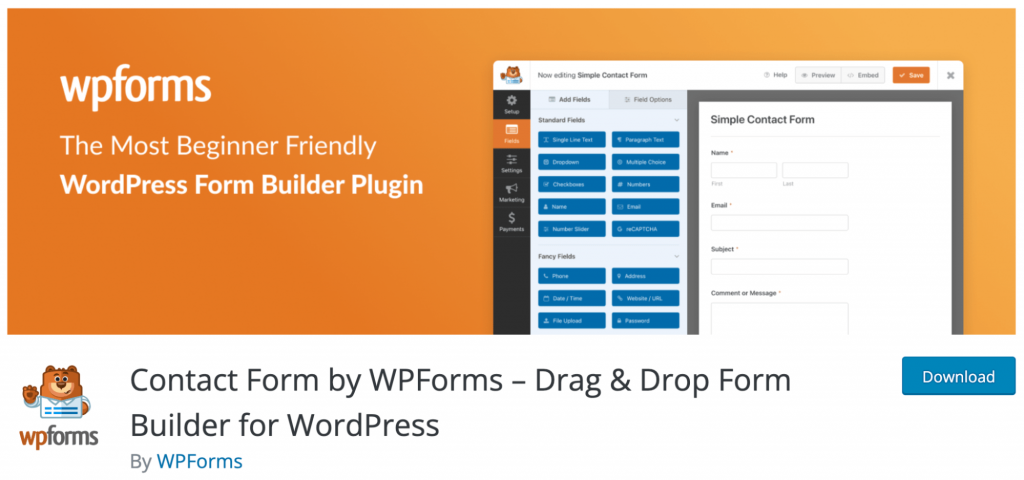 WPForms is a drag-and-drop WordPress form plugin that offers a range of features for those starting out with building online forms.
One of the standout features is the integrated form template that allows you to create an online WooCommerce donation form for your website quickly and easily.
This plugin provides pre-built templates, which you can customize to suit your needs. With its payment gateway integrations for PayPal, Stripe, and Authorize.net, donations go directly into your account.
WPForms also supports email marketing services such as Mailchimp and AWeber, so you can build your email list and extend your campaign's reach. Another useful feature is the form abandonment add-on, which helps you convert incomplete entries into leads.
Key Features:
Form Templates
Smart Conditional Logic
Instant Notifications
Multi-Page Forms
Spam Protection
Numerous 3rd Party Addon
Custom CAPCHA
Entry Management
Pricing:
WPForms is a free WooCommerce donation plugin that you can use on your website. However, if you want to collect donations, you will need to purchase the add-on.
The pro plan starts at $49.5
They also provide a discounted pro license for non-profit organizations. The pro license costs only $99 per year, which is a 75% discount compared to the regular price.
WPForms is the perfect solution for you if…
you love the ease of using drag-and-drop form builder.
you want add-ons for multiple usage
you're a non-profit that would benefit from the discount.
6. WPCrowdfunding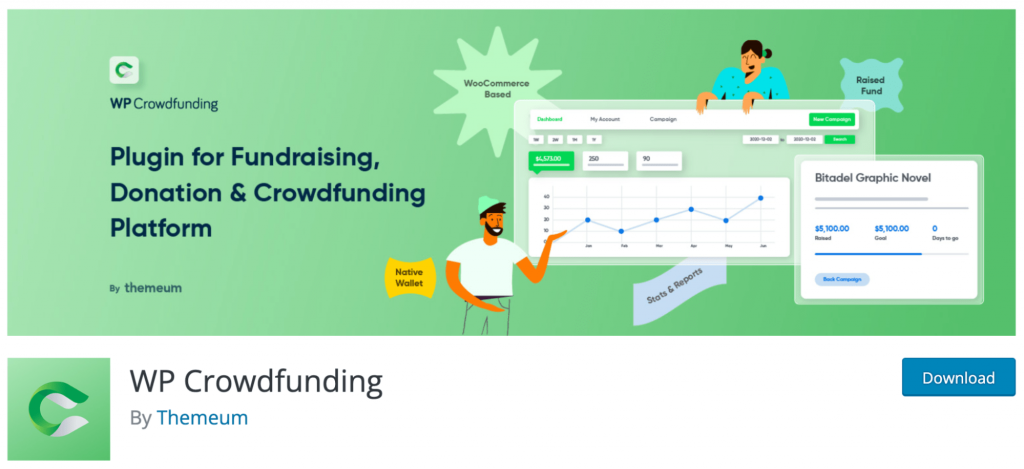 WP Crowdfunding is an advanced WooCommerce donation plugin designed to help you create your own crowdfunding website similar to popular platforms like Kickstarter or GoFundMe.
It provides a convenient and efficient way for individuals to support various charitable causes or fund creative projects.
With WP Crowdfunding, you can easily accept and manage contributions from multiple donors using the built-in wallet system, which is powered by WooCommerce. You can also use Stripe Connect payment gateway to facilitate the transfer of funds to project owners.
In addition to credit cards, users can donate using popular payment systems like PayPal, Skrill, and Stripe.
Key Features:
Raise Funds
Sets up the backing mechanism inside
Withdraw request
Automated calculation
Set Commission Amount
Distribute Funds
Powerful addons to extend the functionality
Pricing:
Free. Pro starts at $149.00 per year.
The free version of WP Crowdfunding offers all of the essential features you need to get started.
However, the paid versions offer more advanced features such as a centralized Native Wallet System, Stripe Connect, analytical reports, email alerts, incentives, and more.
WPCrowdfunding is the perfect solution for you if…
you want to add the crowd-funding system to your existing website
you are looking to create an aggregate-style funding site
you want your website to be a hub for donations.
7. WP Simple Pay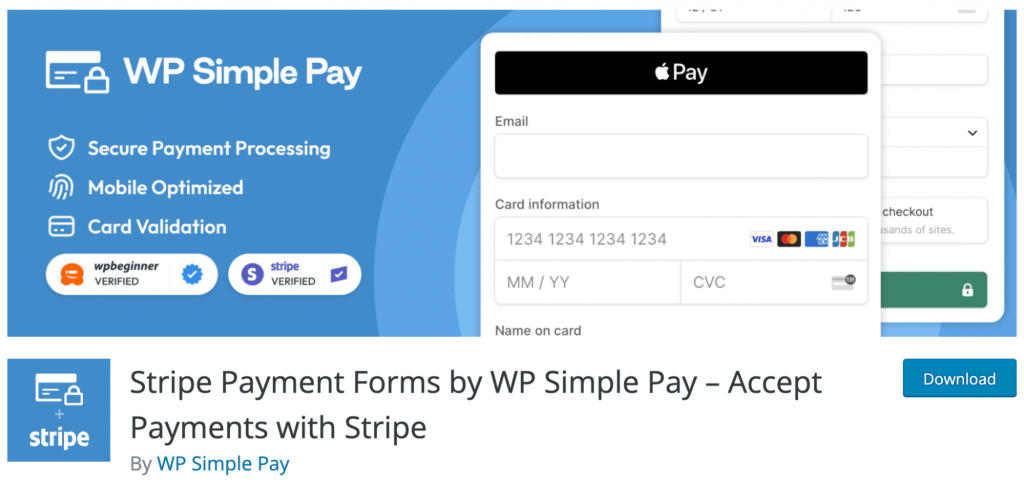 WP Simple Pay is a highly useful WordPress donation plugin that can help you accept one-time or recurring donations with the help of Stripe.
Additionally, WP Simple Pay comes equipped with mobile-friendly payment forms that support payments via credit cards, Apple Pay, Google Pay, and ACH debit.
This WooCommerce donation plugin is particularly popular for its integration with Stripe and is a self-contained solution that connects Stripe directly to your WordPress site. This enables you to take advantage of Stripe's advanced security measures while collecting donations through your website.
Key Features:
Secure Processing
Recurring Payments
Custom Amounts
Advanced Builder
Dedicated Landing Pages
Buy Now, Pay Later
Collect Custom Data
Pricing:
Free. Pro plan starts at $49.50 per year.
Free plugin includes exclusive feautures which allow user to create custom fields, allow users to enter their own payment amounts, offer coupon codes, apply tax rates, provide subscription services, accept alternative payment methods, and more.
WP Simple Pay is the perfect solution for you if…
you wish to accept payments in various currencies
you desire to offer membership options with recurring payment plans
you prefer to build custom payment forms using development tools
We're so glad to have shared this article with you and we hope it was helpful in finding the perfect WooCommerce donation and fundraising plugins for charities and non-profits. Thanks for reading!